Practice Areas
Steve's areas of practice include criminal defense, civil matters and administrative law.
Criminal Defense:  All Felonies and Misdemeanors, including Driving While Intoxicated, DUI, DWI, Drug Crimes, Sex Crimes, Assault, Fraud, Juvenile Law, Parole and Probation, Traffic Violations, Domestic/Family Violence.
Civil Matters: Personal Injury, Automobile, Trucking and Motorcycle Accidents, Victims Rights, Slip and Fall, Wrongful Death, Dog Bites, Insurance Litigation.
Administrative Law:  DMV Hearings, Drivers License Suspension, Security Clearances, Real Estate and other Professional Licensing Matters.
Legal Analyst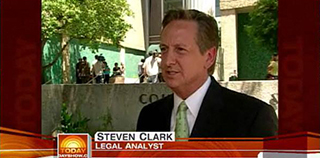 Steven Clark has been seen nationally on major news channels, including NBC, MSNBC, CNN, Fox News Channel, and BBC.
He has appeared on shows hosted by Larry King, Bill O'Reilly, Shepard Smith, Nancy Grace, Catherine Crier, Dan Abrams, Joe Scarborough, Wolf Blitzer, and Neil Cavuto, among others. In addition to remote live shots, he has also done in-studio commentary and analysis.